Chicago Teachers Union boss who denounced school choice as racist has son in Catholic school: report
The president of the Chicago Teachers Union (CTU) is facing backlash after it was recently revealed that she had enrolled her eldest child in a private school.
Stacy Davis Gates – who was elected president of CTU in 2022 and also serves as executive vice president of the Illinois Federation of Teachers – placed her teenage son in a Catholic high school located in Chicago's South Side, according to a report by NBC Chicago.
The report, which cited multiple sources and Davis Gates' own social media posts as confirmation of the enrollment, did not specify the name of Davis Gates' child or the school he had been enrolled in.
Davis Gates said last year that having her children in public schools helps to "legitimize" her position within the union and that she could not advocate on behalf of public schools if that were not the case, according to NBC Chicago.
CHICAGO MAYOR PLANS TO RELOCATE NEARLY 1,600 MIGRANTS FROM POLICE STATION TO TENTS BEFORE WINTER
In March 2022, Davis Gates said, "I'm also a mother. My children go to Chicago Public Schools. These are things that help to legitimize my space within the coalition."
Additionally, in a Chicago Magazine article last year, Davis Gates said, "I can't advocate on behalf of public education without it taking root in my own household."
Despite the enrollment, Davis Gates, whose two younger children attend public schools, has voiced strong opposition to private education and school choice in the past. She has also taken a stance against the Illinois Invest in Kids program, which "offers a 75 percent income tax credit to individuals and businesses that contribute to qualified Scholarship Granting Organizations" and "provide[s] scholarships for eligible Illinois students to attend qualified, non-public schools in Illinois."
Through a variety of social media posts, Davis Gates has made her position on the issue known.
"*School choice* was actually the choice of racists. It was created to avoid integrating schools with Black children," Davis Gates wrote in an August 2022 post to X, formerly known as Twitter. "Now it's the civil rights struggle of our generation?"
In another post to the platform in August 2017, Davis Gates shared a link to a Center for American Progress article titled "The Racist Origins of Private School Vouchers."
In November 2018, Davis Gates also likened private schools to "segregation academies" as she shared her thoughts on an op-ed published by The New York Times.
"'Segregation Academies' …Call them private schools supported by taxpayer funds—vouchers—so your northern cousins understand better," she wrote in the post.
Davis Gates pushed back on the "recent online attacks" she had received in a lengthy statement issued to union educators Thursday evening, insisting that "options for Black students, their families and entire Black communities on this city's South and West Sides are limited."
"You may have seen the recent online attacks against my family and our union related to the school where my eldest child recently enrolled. This story was initiated by a disgruntled former CTU employee with a history of violent incidents who has stalked members of my family and made threats against other CTU members," Davis Gates claimed.
SCHOOL CHOICE GIVES PARENTS THE POWER TO BREAK TEACHERS UNIONS' CHOKEHOLDS ON STUDENTS: COREY DEANGELIS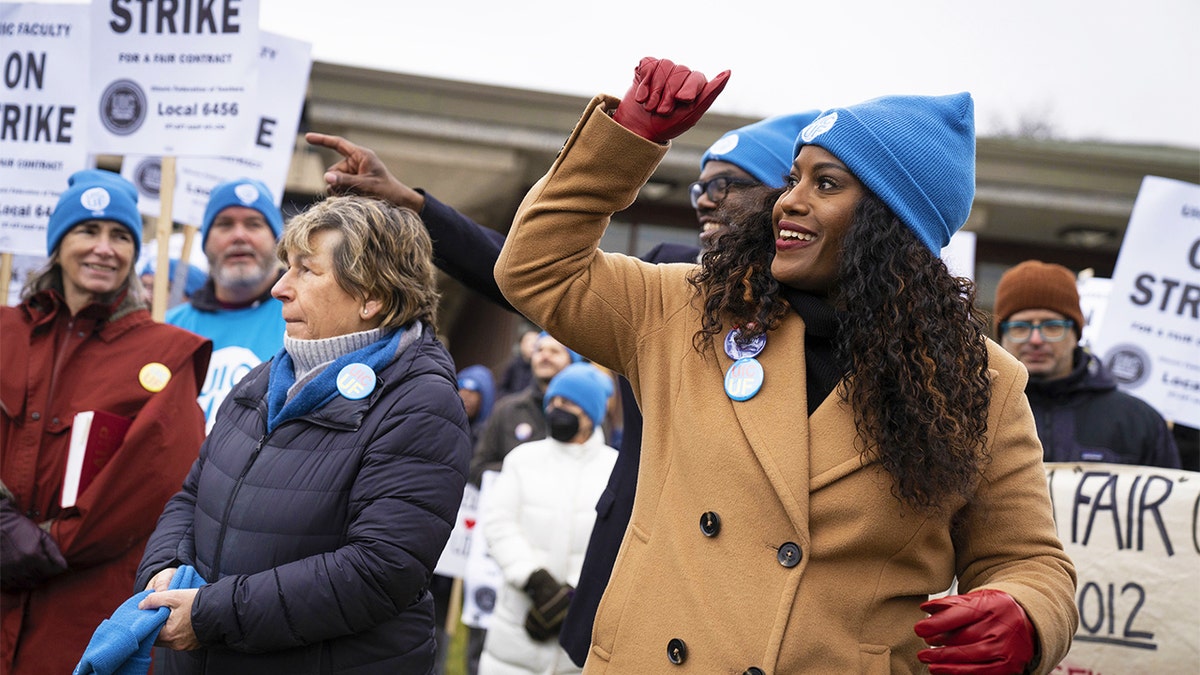 "While our fights and continued advocacy have secured more school resources, the inequities remain alarming," she continued. "Not only are our classrooms the victims of compounded racism and redlining from decades past, but they are also struggling to recover from waves of school closings and disinvestment under previous mayors. Public and charter high schools in our Black and Brown neighborhoods are living and breathing examples of inequality. Nearly all lack the thriving extracurricular activities, sports programs, wraparound services or other ingredients that make for a high-quality neighborhood public school."
"Here is the truth: If you are a Black family living in a Black community, high-quality neighborhood schools have been the dream, not the reality. Unlike some white counterparts on the North Side or in the suburbs, we aren't blessed with quality options blocks away from our home, neatly placed near a grocery store, doctor's office or a safe public park. Our schools are usually stranded in food and healthcare deserts," she added. "Our critics want you to believe that 'school choice' is a black-and-white issue that lacks nuance and hard choices for people like us, Black families — especially when you are parenting a Black boy in America."
Davis Gates also claimed that she and her husband were "forced" into sending their son "to a private high school so he could live out his dream of being a soccer player while also having a curriculum that can meet his social and emotional needs."
Following her response to the report, Corey DeAngelis, a school choice advocate and senior fellow at the American Federation for Children, slammed Davis Gates as a "school choice hypocrite."
"Stacy Davis Gates is a school choice hypocrite. I'm glad she has education opportunities for her family, but she shouldn't fight against school choice for others," DeAngelis told Fox News Digital. "Based on her own argument from just last year that she was a legitimate representative of public schools because she sent her own children to public schools, she should resign in disgrace. That, or she could stop being a hypocrite and support education freedom for families who don't make as much money as she does."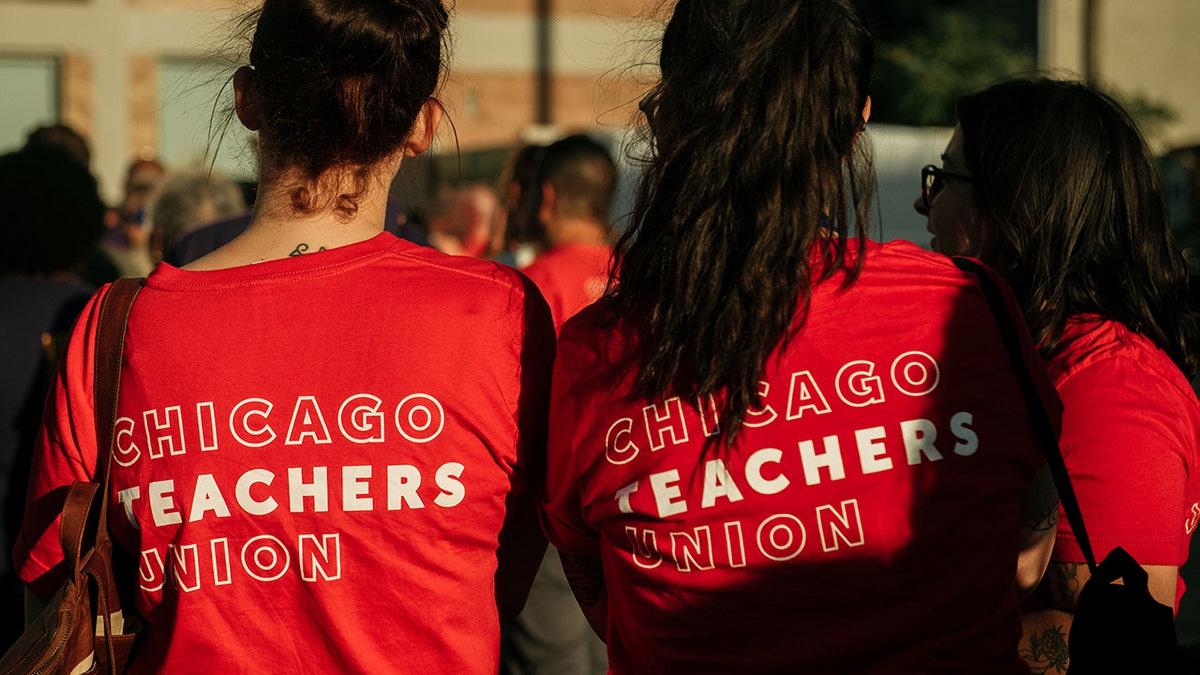 "She tried to defend her hypocrisy by pointing to a supposed 'disinvestment' in public schools. But that flimsy defense is a pile of garbage, because Chicago Public Schools spend over $27,000 per student per year, whereas her son's private school tuition is less than $15,000 per year," he continued. "Money isn't the problem. The problem is her own union fights against any form of accountability whatsoever. They are the teachers' union, not the kids' union, after all."
CLICK TO GET THE FOX NEWS APP
"The truth is she knows her unionized government schools are failing children," DeAngelis added. "She got her own child out of the dumpster fire that is Chicago Public Schools. Less fortunate families should be able to escape those failure factories, too."
The neighborhood high school where Davis Gates' family resides is Harlan Community Academy, which ranks 437 out of the 664 high schools located throughout Illinois, according to NBC Chicago.
Davis Gates did not immediately respond to a Fox News Digital request for comment about enrolling her son in a private school or her past comments about school choice being the "choice of racists."