Flesh-eating bacteria infections may rise as climate warms, study finds
A recent study suggests that the warming climate may increase infections from a flesh-eating bacterium along the coast of the eastern United States.
The study, published in Scientific Reports on March 23, examined how climate change may affect the spread of Vibrio vulnificus, a bacterium that usually lives in warm, brackish seawater, farther north up the East Coast.
"Greenhouse gas emissions from human activity are changing our climate, and the impacts may be especially acute on the world's coastlines, which provide a major boundary between natural ecosystems and human populations and are an important source of human disease," geoscientist Elizabeth Archer said in the study. 
Archer and her colleagues used data models to predict the future disease distribution.
EYE DROP BACTERIAL CONTAMINATION 'COULD HAVE HAPPENED ANYWHERE' – HERE'S HOW TO PROTECT AGAINST IT
"We show that by the end of the 21st century, V. vulnificus infections will extend further northward, but how far north will depend upon the degree of further warming and therefore on our future greenhouse gas emissions," Archer says.
The study found that Vibrio vulnificus infections in the eastern U.S. between 1988 and 2018 increased from 10 to 80 per year, and may increase further to 200 per year by 2100.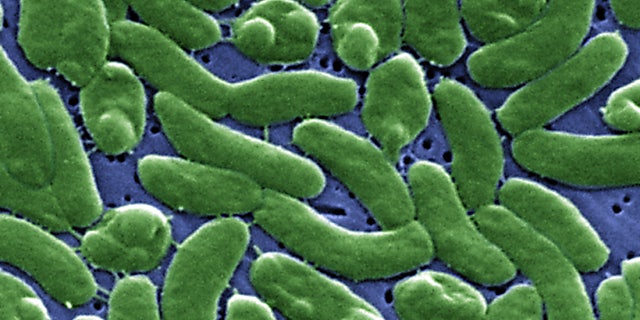 The bacterium may continue to spread northward and "encompass major population centers around New York," the study says.
'SILENT PANDEMIC' WARNING FROM WHO: BACTERIA KILLING TOO MANY PEOPLE DUE TO ANTIMICROBIAL RESISTANCE
According to the Centers for Disease Control and Prevention, some Vibrio vulnificus infections lead to necrotizing fasciitis, a severe infection that kills the flesh around an open wound.
People with open wounds, cuts or scratches can be exposed to the bacterium through direct contact with the mixture of fresh and ocean water.
The bacterium can invade the bloodstream, causing a severe life-threatening illness with symptoms that include fever, chills, decreased blood pressure and blistering skin lesions.
The CDC says about one in five people die sometimes within a day or two of becoming ill.
Fox News' Julia Musto contributed to this report.