GOP Sen. Tim Scott to make major 2024 presidential campaign announcement on May 22
Saying "it's time to take the final step," Republican Sen. Tim Scott of South Carolina will formally jump into the 2024 GOP presidential nomination race.
Scott said Sunday at a political event in Charleston, South Carolina, that he'll make a "major" 2024 announcement on May 22. That announcement, in North Charleston, South Carolina, is expected to be Scott's formal declaration of candidacy and launch of his White House campaign.
"Tell your friends. Be in attendance," Scott said. "We will have a major announcement, and you're going to want to be there."
Scott, a rising star in the GOP and the only Black Republican in the Senate, kicked off a "Faith in America" listening tour in February. That tour has taken the senator twice the past couple of months to Iowa – the state that leads off the GOP presidential nominating calendar – and once to New Hampshire, which holds the first primary and votes second in the Republican schedule. The senator has also held campaign style events in his home state of South Carolina, which holds the third contest in the GOP primary and caucus lineup.
FIRST ON FOX: TIM SCOTT ANNOUNCES PRESIDENTIAL EXPLORATORY COMMITTEE
Earlier this month, Scott launched a presidential exploratory committee. Saying that he will "never back down in defense of the conservative values that make America exceptional," Scott announced his exploratory committee in a video that was first reported by Fox News.
Scott has been offering voters what he calls an "optimistic, positive message anchored in conservativism" as he spotlights this modest upbringing, noting that he "was raised by a single mother in poverty." 
The senator has showcased that "individual responsibility leads to the American dream. I've been on both sides of the tracks and I am so thankful that my story – which is a rare story around the world – isn't so rare in America. Made in America is a story of those who start in one place and end up in a much better place."
Asked by Fox News last weekend during a stop in Iowa about the reception he was receiving from voters, Scott said "so far, so good. I am excited about where we. I am excited about the response to the message."
SCOTT, PENCE, SPOTLIGHT THEIR DIFFERENCES WITH TRUMP AS THEY MOVE CLOSER TO LAUNCHING 2024 BIDS
Scott, who cruised to re-election last November to what he has said will be his final six-year term in the Senate, is expected to court evangelical Christian voters, who play an outsized role in GOP politics in Iowa and his home state.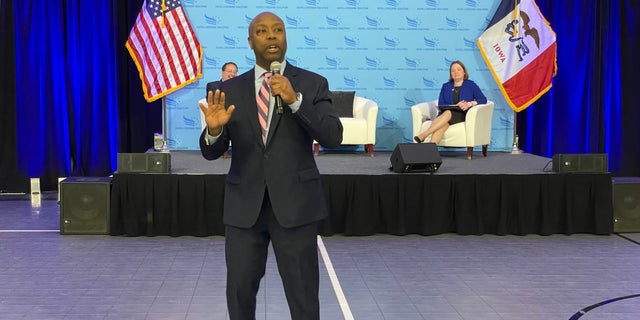 He'll join a GOP White House field that includes former President Donald Trump, who announced his third straight presidential run in November and remains the clear front-runner in the Republican nomination race. 
Scott will also face serious competition from Nikki Haley, the former ambassador to the United Nations and former two-term South Carolina governor who launched a 2024 presidential campaign two months ago. Haley, who's spending plenty of time on the campaign trail in Iowa and New Hampshire, and Scott share many of the same allies and donors. 
Former two-term Arkansas Gov. Asa Hutchinson formally launched a Republican presidential campaign last week. Among the other candidates in the race are multi-millionaire entrepreneur, best-selling author and conservative commentator Vivek Ramaswamy, who announced his bid in February, Michigan businessman and 2022 gubernatorial candidate Perry Johnson, who launched his campaign last month, and conservative radio talk show host and former California gubernatorial candidate Larry Elder, who declared his candidacy a week and a half ago.
WHO'S IN AND WHO'S ON THE SIDELINES — YOUR GUIDE TO THE 2024 GOP PRESIDENTIAL NOMINATION RACE
Florida Gov. Ron DeSantis remains on the 2024 sidelines but is expected to launch a presidential campaign after the conclusion next month of his state's legislative session. And former Vice President Mike Pence, who's made numerous trips the past two years to the early voting states as he moves towards launching a presidential campaign, said recently that he'll have a 2024 decision in weeks.
Asked last weekend if his message is receptive to Republican primary voters or if they're hungering for a fighter, Scott told Fox News "I think people want a fighter and that's good, but we also want to win, and that's better.The real question is how do we do that? And one of the ways we do that is make sure that our message is in synch with what voters want and what the nation needs."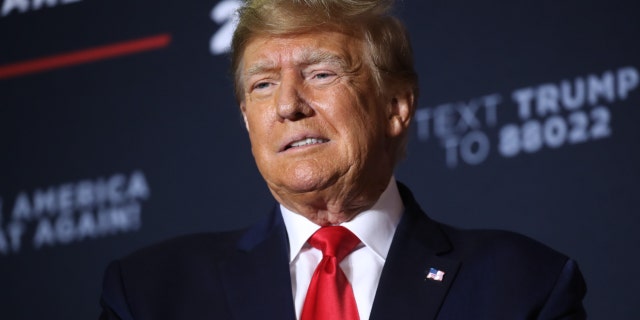 Scott's comments appeared to be a swipe at Trump, who continues to relitigate his 2020 election loss to President Biden as he repeats his unproven claims that his defeat was due to an election "stolen" through "massive voter fraud." The former president's listing of his legal grievances has also become a campaign staple, and at a rally last month in Texas Trump stressed that "for those who have been wronged and betrayed …I am your retribution."
CLICK HERE TO GET THE FOX NEWS APP
Scott, taking aim at Trump without mentioning the former president's name, told reporters that "I believe that our nation has a decision to make – are we going to be the country that focuses on grievance or are we going to be the county that allows the seeds of greatness to germinate. I'm voting for germination, greatness."
While Scott doesn't have the same national standing with conservatives that Trump and DeSantis enjoy, he's known as a ferocious fundraiser who had roughly $22 million in his campaign coffers at the end of March, which could be transferred to a presidential campaign. The fundraising war chest could give Scott a head start over some of his potential rivals.