Little can be done to copyright AI-generated content in America: AI lecturer
The U.S. will likely have a tough time trying to regulate AI-generated content, such as requiring watermarks on computer-made media, a university art lecturer told Fox News.
"[F]or us to enforce it would be a lot more difficult," Tyler Coleman, who teaches University of Texas classes focused on AI, said. "I think it will be harder to achieve in the U.S. than it would be in China."
WATCH: AI ART LECTURER: AI REGULATIONS WOULD BE 'DIFFICULT' TO ENFORCE IN U.S.
WATCH MORE FOX NEWS DIGITAL ORIGINALS HERE 
China's government announced regulations in December 2022 requiring any AI-generated content to include a flag such as a watermark to indicate its origin. While Coleman described the regulations as "a very smart idea," he doubted America's ability to replicate them.
"I don't think it would be a bad move for us to attempt to do so," he told Fox News. "I just don't think with our form of capitalism we will succeed." 
Beijing, through its communist rule, has forced "a lot of structure for what is allowed on the Internet," according to Coleman. America's democratically elected government, meanwhile, remains "very open" about what it allows on the internet, he told Fox News.
"There's very few limitations to what we can do online," the AI educator said.
Coleman said he believed America's copyright rules and fair use guidelines, which dictate how art can be used, might impede potential watermark requirements for AI-generated content in the U.S.
EVERYTHING YOU NEED TO KNOW ABOUT ARTIFICIAL INTELLIGENCE: WHAT IS IT USED FOR?
Artificial intelligence software companies often train machine learning technologies with data culled from the internet and use that information to create content such as AI-generated art. This data may include copyrighted material, creating legal and ethical issues for both the AI companies and the original copyright owners.
"Artificial intelligence machine learning is, for all intents and purposes, a very advanced system for taking an understanding of all the little things on the internet, billions of points of data, trillions of points of data, and being able to sort of mix them in a way to create a new piece of content," said Coleman, who's experimented with AI since roughly 2017 in his role as a gaming developer.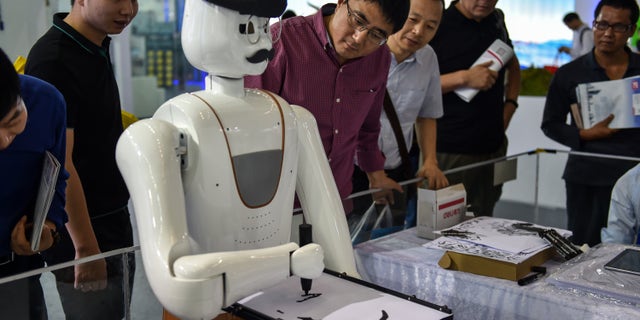 US FIRMS PUMPING BILLIONS INTO CHINA'S AI SECTOR
"There's this term, the de minimis effect defense, which is saying we use … such a small piece that we're not really impeding on the copyright only because it was such a small element," Coleman said. "The concept that the AI model creation tools has is … if it's using only a little bit of many, many images, is it impeding on each one's copyright?"
AI's limited use of up to trillions of distinct data points may allow it to bypass the de minimis effect concept, according to Coleman.
"By using such small samples from each one, is it actually kind of passing through that de minimis?" he said.
CLICK HERE TO GET THE FOX NEWS APP
Ultimately, Coleman said he hopes to continue educating people on AI's increasing use across the art world. 
"It's getting to the point where it is very hard to understand the difference between an AI-generated image and one that was made via painting, photography, digital works," he told Fox News. "That's going to be a challenge for us in the future as we need to know the difference."
To hear more of Coleman's thoughts on AI-generated art regulation, click here.