Schumer rejects House debt ceiling bill, plans hearings to 'expose' GOP's 'reckless legislation'
Senate Majority Leader Chuck Schumer, D-N.Y., on Monday rejected the House-passed bill to raise the debt ceiling and trim federal spending, and said Senate Democrats would hold a series of hearings on the bill – not to consider it, but to warn the American public about how "dangerous" it is.
"The Senate will show the public what this bill truly is," Schumer wrote in a letter to his Democratic colleagues. "Beginning this week, our Committees will begin to hold hearings to expose the true impact of this reckless legislation on everyday Americans."
He said the Senate Budget Committee would start with a Thursday hearing on the GOP bill, and encouraged Democrast to "make clear how devastating this proposal truly is to your constituents through public events and press."
The Limit, Save, Grow Act passed the House with no Democratic support in a Wednesday evening vote last week. In addition to raising the debt ceiling by $1.5 trillion or through March 2024 – whichever benchmark is hit first – it would also return federal discretionary spending levels to those seen in 2022.
HOUSE PASSES MCCARTHY'S DEBT CEILING BILL BY TWO VOTES, FOUR REPUBLICANS VOTE AGAINST
President Biden has threatened to veto it if it gets to his desk, and Schumer has repeatedly lambasted the proposed GOP cuts. The Democrats have refused to consider any proposal to trade a debt ceiling hike for spending cuts, and Schumer's letter accused Republicans of holding the country hostage with their bill.
"Last week, House Republicans sent a hard-right ransom note to the American people. The Republicans' Default on America Act (DOA) offers two choices: either default on the debt or default on America, forcing steep cuts to law enforcement, veterans, families, teachers and kids. Democrats will not allow it. Put plainly, Republican's Default on America Act pushes us closer to default," the New York lawmaker wrote.
He called out House Speaker Kevin McCarthy, R-Calif., directly for some of the deficit reduction methods that were pushed by the right flank of his party, such as tightening work requirement provisions for federal benefits.
REPUBLICANS HAVE THE UPPER HAND OVER DEMS IN DEBT CEILING NEGOTIATIONS, BUDGET EXPERT SAYS
"If anything, the MAGA House Republicans' actions have increased the likelihood of default. It locks the House into an unacceptable and extreme position that pulls us even further apart," Schumer said. "If Speaker McCarthy was a serious good-faith negotiator, he would not have let extremists take him hostage and move this debate in the wrong direction."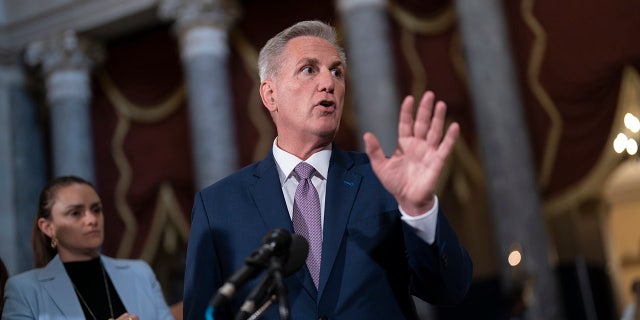 Schumer later added, "We cannot move forward as long as Republicans threaten our country with default."
While many GOP lawmakers have made clear they believe the road forward is a negotiation between Biden and McCarthy, House Majority Whip Tom Emmer, R-Minn., pointed out during an interview on CNN's "State of the Union" Sunday that the onus was on Schumer to take up the bill in the Senate. He said the veteran Democrat had "no ideas" of his own to bring to the table.
CONGRESS SHOULD LET BIDEN DO WHAT'S 'NECESSARY' ON DEBT LIMIT, THEN NEGOTIATE 'IMPORTANT ISSUES': VAN HOLLEN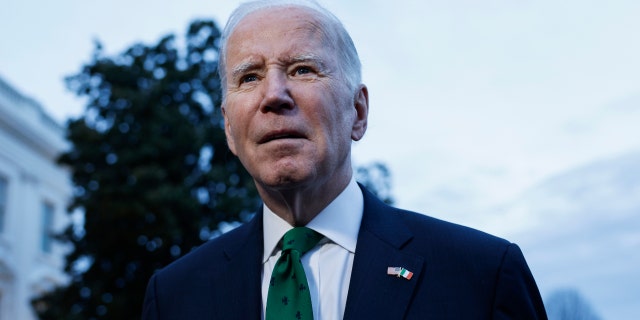 "To say that it's dead on arrival in the Senate when you've got even [Sen. Joe Manchin, D-W.Va.] suggesting support for this type of approach, I think that's not exactly accurate," Emmer said. "We've passed it. You now have the solution that is good for all of America and Americans. Pass it if you don't have any ideas. If you don't like something in it, if you have ideas of your own, our speaker is more than willing, I'm sure, to listen to those."