Timberwolves knockout Thunder in play-in tournament, set to face Nuggets as West's No. 8 seed
The Oklahoma City Thunder were able to win one do-or-die game on the road, but they were unable to accomplish that feat twice.
The Minnesota Timberwolves took home Friday's play-in tournament game, 120-95, to clinch the No. 8 seed in the Western Conference and eliminate OKC.
Minnesota had another chance to make the playoffs after their overtime loss to the Los Angeles Lakers on Tuesday (L.A. is the seventh seed) – the Thunder ended the New Orleans Pelicans' season on Wednesday.
It was a 10-point Timberwolves lead at the half, and when they went up 13 early in the third quarter, they also knocked Oklahoma City's leading scorer Shai Gilgeous-Alexander out of the game temporarily. 
CLICK HERE FOR MORE SPORTS COVERAGE ON FOXNEWS.COM
Grabbing his offensive rebound, Rudy Gobert's elbow inadvertently hit his right in the face, and Gilgeious-Alexander lay on the floor for several minutes. He walked into the locker room with a trainer while icing his face and returned a few minutes later, but with a shiner on his right eye.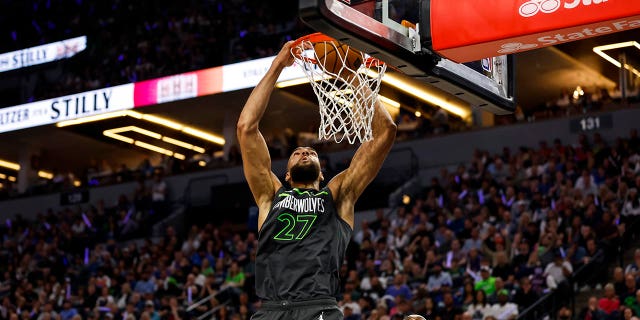 HEAT SURVIVE ANOTHER BULLS PLAY-IN TOURNAMENT COMEBACK TO EARN NO. 8 SEED IN NBA PLAYOFFS
The Thunder were able to cut a 16-point deficit down to eight at one point in the third quarter, but Minnesota took off from there, bringing their lead back up to 17 just a few minutes later. That lead got up to as high as 29 with a dominant fourth quarter.
Six Wolves, including all five starters, were in double-digit scoring: Karl-Anthony Towns (28), Rudy Gobert (21), Anthony Edwards (19), Mike Conley (14), Nickeil Alexander-Walker (12), and Kyle Anderson (11). Towns and Gobert also had 11 and 10 rebounds, respectively, 
The game marked the return of Gobert from a team-imposed one-game suspension after he threw a punch at Anderson during a timeout – Gobert missed the first play-in game.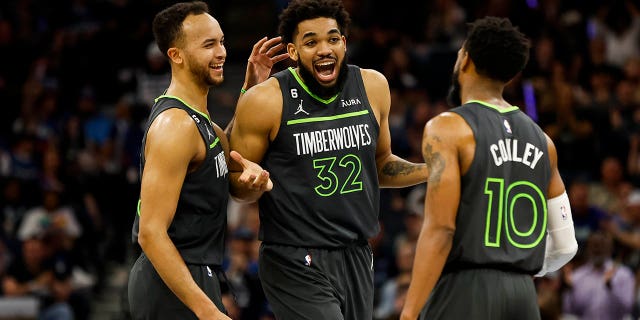 CLICK HERE TO GET THE FOX NEWS APP
In the closing minutes, the Minnesota crowd chanted "We want Denver." They got them.
It will be the Timberwolves and the top-seeded Denver Nuggets, who are led by back-to-back MVP Nikola Jokic (who may win it a third-straight time) in the first-round of the NBA playoffs.