Your secrets are not so safe with AI chatbots like ChatGPT
Chatbots are the latest new tech that everyone seems to be obsessing over. They are computer programs that use artificial intelligence and natural language processing to simulate human conversations. These conversational assistants can be accessed through various messaging platforms such as ChatGPT, Bing Chat and Bard.
Also called Generative AI, people are learning how powerfully these chatbots can help you with a wide range of tasks, such as answering questions, providing information, scheduling appointments, and even ordering products or services.
However, this does not mean that everything you've been asking your chatbot has been kept private. It turns out that unless you modify a setting on one of the widely used platforms, ChatGPT, your queries, and ChatGPT's responses are being recorded.
CLICK TO GET KURT'S FREE CYBERGUY NEWSLETTER WITH QUICK TIPS, TECH REVIEWS, SECURITY ALERTS AND EASY HOW-TO'S TO MAKE YOU SMARTER
Secrets leaked
Samsung just banned the use of chatbots by all its staff at the consumer electronics giant. This puts an end to staff access to ChatGPT, Bard and Bing after sensitive corporate secrets were accidentally leaked by employees on chatbots.
In addition to all your "prompts" and chatbot responses being recorded along with your account login info, the people behind the chatbots can see everything you ask your chatbot, so it's important that you not share personal and sensitive details on these platforms. Here are some things to keep in mind when using a chatbot.
What are the people behind the chatbots doing with my information?
The main reason why these people want your information is simple – it makes them money.
It's a reasonable expectation that ChatGPT, Bing and Bard are all aligned to make money and generate revenue from knowing your personal information. For example, when it comes to asking a chatbot a personal question about your specific interests, that information could be sold to advertisers on various websites like Facebook, Instagram and Google. History tells us where all this is heading. Searches and browsing habits for medical information have historically been sold to advertisers on sites like WebMD.
If they're willing to sell that information about you, then it's safe to assume that other ad-based networks could make money by selling your search history no matter how invasive it could be to your privacy.
CHATGPT IS FINDING ITSELF EVERYWHERE, NOW IN HOUSES OF WORSHIP
Is my search history being recorded?
By default, your search history is recorded with ChatGPT, Bing and Bard. Each site has ways of limiting this feature. With ChatGPT, however, you can ask chats not to be saved, yet it will still keep them for a month before deleting them permanently.
Bing Chat has an option for you to delete your search history, while Bard lets you stop saving your queries and associating them with your Google account.
I highly recommend you turn these features off for greater privacy and security. Here are the steps you can follow to do so with each chatbot.
ARE YOU READY FOR AI VOICE CLONING ON YOUR PHONE?
How to adjust search history on ChatGPT
Tap the three horizontal dots on the bottom left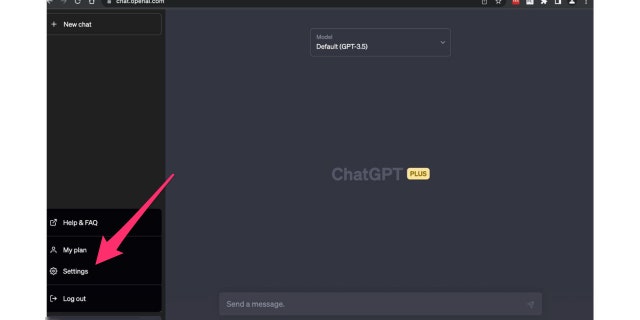 In the Data Controls section, select Show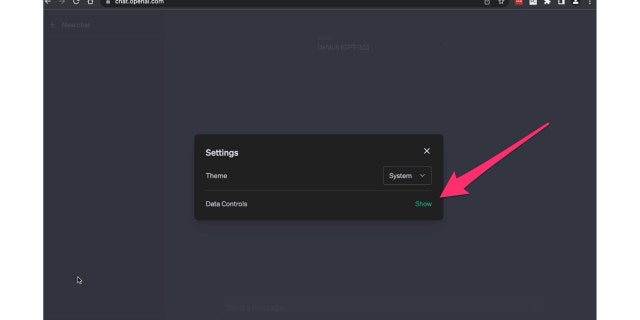 Toggle off Chat History & Training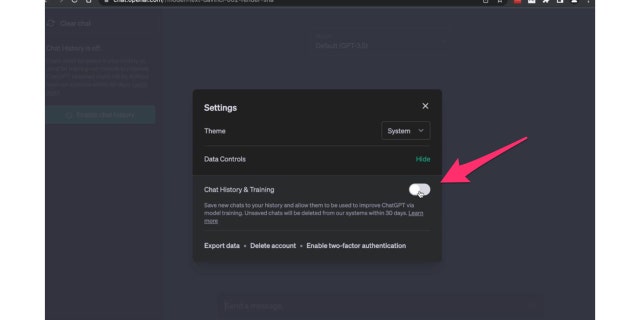 FOR MORE OF MY TIPS, SUBSCRIBE TO MY FREE CYBERGUY REPORT NEWSLETTER BY HEADING TO CYBERGUY.COM/NEWSLETTER
How to adjust search history on Bing Chat
Click the menu button at the top right of your screen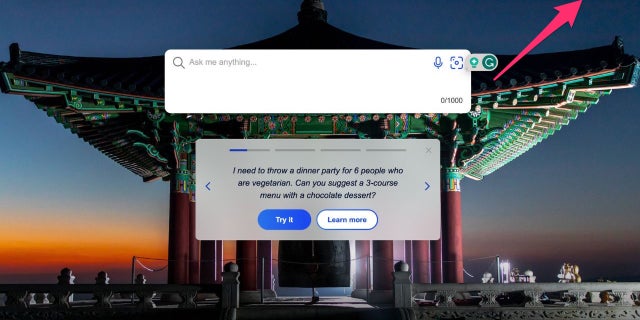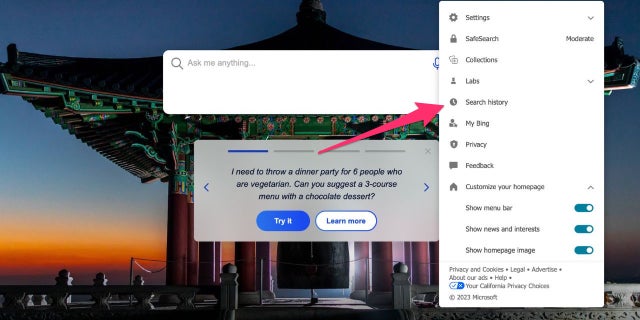 To clear individual searches, scroll down to the Activity section and click the trash can icon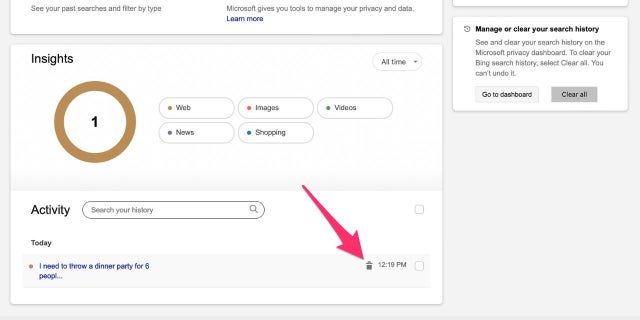 To clear all searches, go to the box on the right that says Manage or clear your search history and click Clear all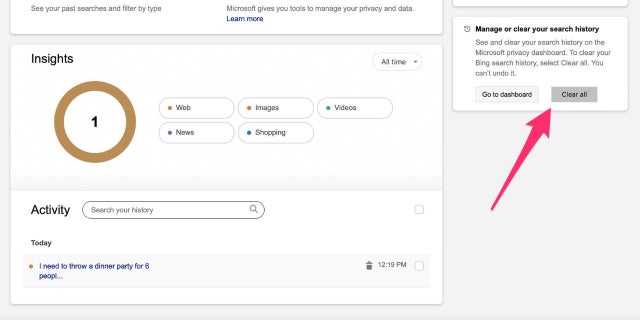 Click Clear all to confirm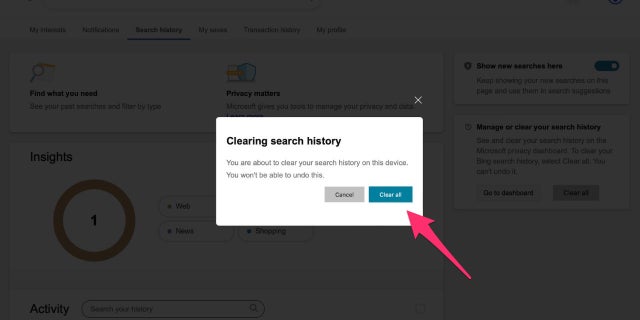 How to adjust search history on Bard
Select the Menu button in the top left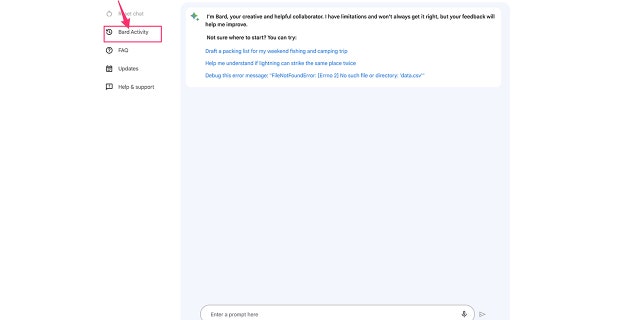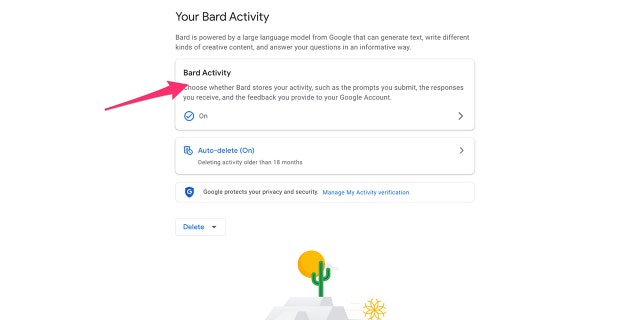 Turn off Bard Activity by sliding the toggle to the left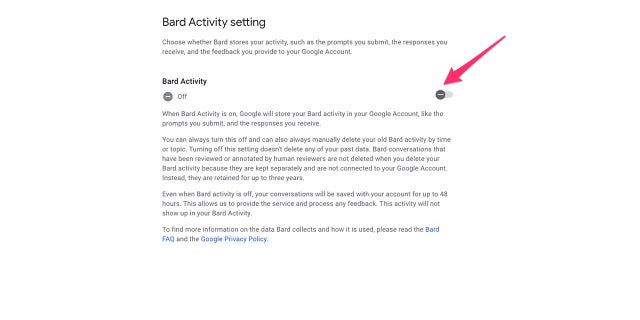 Then, be sure to delete all your Bard activity by clicking on the "Delete" pull-down link
Select Delete and select All time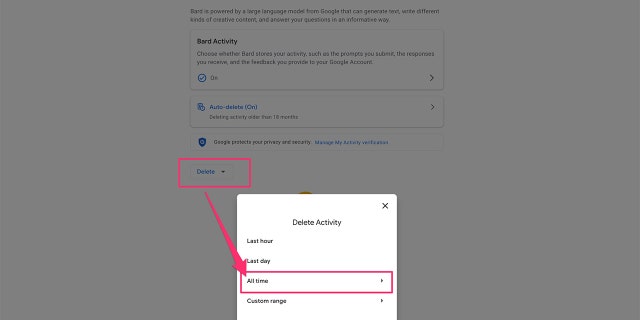 BEWARE OF FAKE CHATGPT PLUGIN THAT'S STEALING YOUR FACEBOOK LOGIN
What information should I never tell a chatbot?
Remember, any of these AI companies can decide to change their privacy policy at any time or be purchased by another company with different ideas of privacy, so assume that nothing you share with a chatbot is private.
Here are a few things you should never share with a chatbot.
Your name
Your home address
Any banking or credit account numbers
Passwords (do not use a chatbot to help you come up with a password either)
Any other personally identifiable details like your driver's license number, Social Security Number, health insurance, etc.
Final Thoughts
While chatbots are a convenient way to get things done, it's important to remember that the information you share with them can be seen by the people behind them. As such, it's important to limit the amount of personal or sensitive information you share. Never ever share personally identifiable details like your home address, banking or credit account numbers, passwords, or Social Security number with a chatbot. Lastly, adjust your search history settings to protect your privacy.
CLICK HERE TO GET THE FOX NEWS APP
Have you been careful about what you share with chatbots? Let us know by writing us at CyberGuy.com/Contact.
For more of my tips, subscribe to my free CyberGuy Report Newsletter by heading to CyberGuy.com/newsletter.
Copyright 2023 CyberGuy.com. All rights reserved.