Anker Unveils Updated USB-C Nano and MagGo Qi2 Charging Accessories
Anker is announcing updates to two of its most popular charging accessory lineups today: the USB-C Nano series and the MagGo wireless charger family.
The new USB-C Nano updates complement existing power adapters and primarily involve two new power banks that are well-timed for the iPhone's imminent transition to USB-C. The first is a new Anker Nano Power Bank with integrated folding USB-C connector. The company introduced a similar version with a Lightning connector earlier this year, but the new USB-C version will offer flexibility to charge a wider array of products. The folding USB-C connector makes it ideal for travel and means no additional cable is needed to recharge your devices.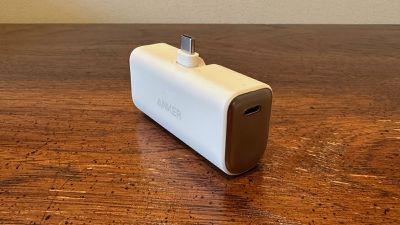 In addition to the built-in USB-C connector that allows for both input and output, there is a USB-C port that can be used to recharge the power bank or to charge other devices via cable at up to 22.5 watts depending on the charging protocol.
Overall, the power bank measures in at just 3.0 inches by 1.4 inches by 1.0 inches, and it has a capacity of 5,000 mAh, which was enough to add about 40% charge to an 11-inch iPad Pro in my testing. It's available in five colors and is priced at $29.99 at Anker and Amazon.
The second new power bank is a higher-end 10,000 mAh model with a clever built-in USB-C cable that doubles as a short lanyard for carrying the bank. The power bank supports up to 30 watts of input or output power for efficient charging speeds, and smart temperature monitoring helps maintain battery health.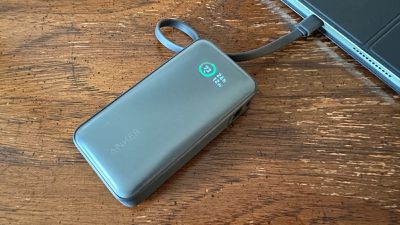 As with some of Anker's other recent higher-end power banks, this one includes a screen that displays charging data such as the percent of charge remaining and the amount of time remaining until it's charged or depleted, calculated based on the real-time input or output. Aside from the integrated USB-C cable, there's an additional USB-C port and a USB-A port, allowing you to charge multiple devices simultaneously. With its bigger capacity, it was able to add about 80% charge to my 11-inch ‌iPad Pro‌.
Like the smaller power bank, this one is also available in five colors, and it's priced at $49.99 at Anker and Amazon.
Beyond the two new power banks, Anker's Nano series is also adding a new thin-profile 6-in-1 power strip featuring a pair of power outlets plus two USB-C ports and two USB-A ports. The USB-C ports support up to 67W USB Power Delivery 3.0. It's available for $67.99 at Anker and Amazon.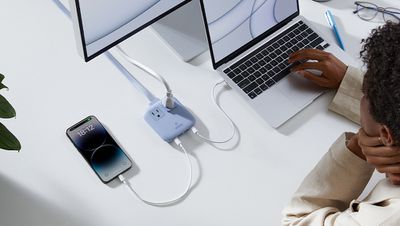 And while not strictly part of the Nano series, there's a new 10-foot version of Anker's USB-C to USB-C cable option with a bio-based braided design for strength, durability, and eco-friendliness, and it supports up to 240-watt charging. It's priced at $18.99 at Anker and Amazon.
The second product family seeing announcements today is Anker's MagGo wireless chargers, and while the new products won't be available until late this year, their unveiling provides an initial look at the Qi2 standard that is essentially an open version of MagSafe supporting 15-watt wireless charging speeds.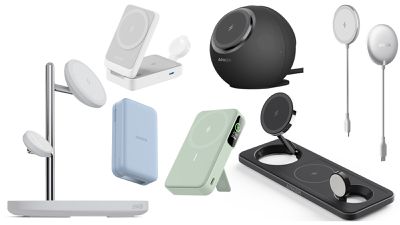 Upcoming products in the MagGo Qi2 family include:
A 10,000 mAh Qi2 battery pack with kickstand and charging status display plus a USB-C port that supports up to 27-watt wired charging.
A foldable wired 3-in-1 charging station optimized for travel with 15-watt Qi2 phone charging, Apple Watch fast charging, and AirPods charging.
A foldable power bank with 6,600 mAh capacity that doubles as a phone stand.
A desktop/bedside charging station with elevated spots for 15-watt Qi2 phone charging and Apple Watch fast charging, plus a spot for AirPods charging on the base
A portable desktop charger with collapsible Qi2 phone charging and Apple Watch fast charging modules and a center spot for AirPods or other devices.
An updated version of the existing 8-in-1 MagGo charging station with support for Qi2 phone charging plus a trio of power outlets, two USB-C ports, and two USB-A ports on the rear.
A simple Qi2 wireless charging pad with 15-watt support and a 5-foot cable to compete with Apple's standard ‌MagSafe‌ Charger.
We'll have more details on the new MagGo accessories closer to their launch.
Note: MacRumors is an affiliate partner with Anker and Amazon. When you click a link and make a purchase, we may receive a small payment, which helps us keep the site running.