Apple Releases Third Public Beta of macOS Ventura 13.4
Apple today released the third beta of macOS Ventura 13.4 to its public beta testing group, allowing the general public to try out the software ahead of its official launch. The third ‌macOS Ventura‌ 13.4 public beta comes two weeks after Apple seeded the second public beta and a day after the beta was provided to developers.
Public beta testers can download the macOS 13.3 Ventura update from the Software Update section of the System Preferences app after installing the proper profile from Apple's beta software website.
The ‌macOS Ventura‌ 13.4 beta adds a new beta installation method where developers and public beta testers can opt-in to receive beta updates without the need for a profile to be installed. For developers, an Apple ID needs to be associated with a developer account to get access to a developer beta, while public beta testers need to sign up on Apple's public beta website with their ‌Apple ID‌ and then elect to receive beta updates using the System Settings app.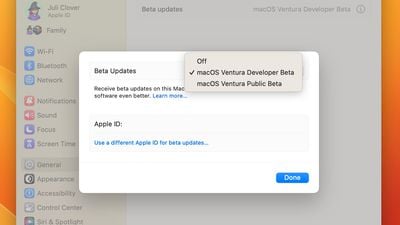 Work on ‌macOS Ventura‌ is winding down as Apple prepares to shift its focus to macOS 14, the as-of-yet-unnamed next-generation version of macOS that we expect to see introduced this June at WWDC.
Popular Stories
iPadOS 17 Again Rumored to Drop Support for These iPads
Apple in iPadOS 17 will drop support for the first-generation 9.7-inch and 12.9-inch iPad Pro as well as the fifth-generation iPad, according to French tech website iPhoneSoft. This is the second time we have heard claims regarding iPad device compatibility for the next operating system Apple is developing. Early last month, a source with a proven track record for upcoming software updates…
iOS 17 Rumored to Add New Lock Screen, Apple Music, and App Library Features
iOS 17 will include new features and changes across the Lock Screen, Apple Music, App Library, and Control Center, according to a Weibo post this week from the same account that revealed Apple would be launching the iPhone 14 in Yellow. The post lists several potential iOS 17 features:Lock Screen font size options A button to share custom Lock Screen designs with other iPhone users Apple…
Emergency SOS via Satellite Saves Students Trapped in Utah Canyon
The iPhone 14's Emergency SOS via Satellite feature last week saved a trio of students who went canyoneering in Utah and got stuck in an area with no cellular signal. Introduced last September, Emergency SOS via Satellite is designed to let iPhone 14 users access satellite communications to get help in emergency situations. The students who were involved spoke to Utah's KUTV and described…
Apple Headset to Use 'New Proprietary Charging Connector' for External Battery
Apple's mixed reality headset will have two ports including a USB-C interface for data transfer and a new proprietary charging connector for the external battery, according to Bloomberg's Mark Gurman. Apple mixed reality headset concept by David Lewis and Marcus Kane Most AR/VR headsets on the market have an integrated battery, but reports suggest that Apple's headset will connect to a…
iOS 16.5 for iPhone Includes These Two Small But Useful Features
Apple made the second beta of iOS 16.5 available to developers and public testers last week. So far, only two new features and changes have been discovered for the iPhone, including a Sports tab in the Apple News app and the ability to start a screen recording with Siri. More details about these changes are outlined below. iOS 16.5 will likely be publicly released in May, and it is possible…
Here's What's New in iOS 16.5 for Your iPhone So Far
Apple made the second beta of iOS 16.5 available to developers and public testers a few weeks ago. So far, only two new features and changes have been discovered for the iPhone, including a Sports tab in the Apple News app and the ability to start a screen recording with Siri. More details about these changes are outlined below. iOS 16.5 will likely be publicly released in May, and it is…
Top Stories: Apple Card Savings Account Launches, 15-Inch MacBook Air Rumors, and More
With roughly six weeks to go until WWDC, rumors are continuing to fly about what we might see at the event. Bloomberg's Mark Gurman joined us on this week's episode of The MacRumors Show to give us his take on things, but there's still lots up in the air. This week also saw the launch of the savings account companion to Apple Card and the promised smoke and carbon monoxide alarm sound…