Apple switching to OLED by 2027, new 32- and 42-inch displays planned
Apple has always been invested in display technology, and it has reflected in the kind of displays the company has used in its products. For the last few yearss, the focus has been mini-LED displays. Apple has brought these to its dedicated displays, as well as MacBooks and iPads. However, it seems like Apple may be looking to switch away to OLED soon.
iPhones already come with OLED displays, and according to a new report from Omdia, as reported by OLED Info (opens in new tab), it looks like Apple is planning to completely switch all of its displays to OLED by 2027. The company is also looking at two new displays in 32- and 47-inch sizes, according to the report.
OLED iPad just the beginning of a complete switch for Apple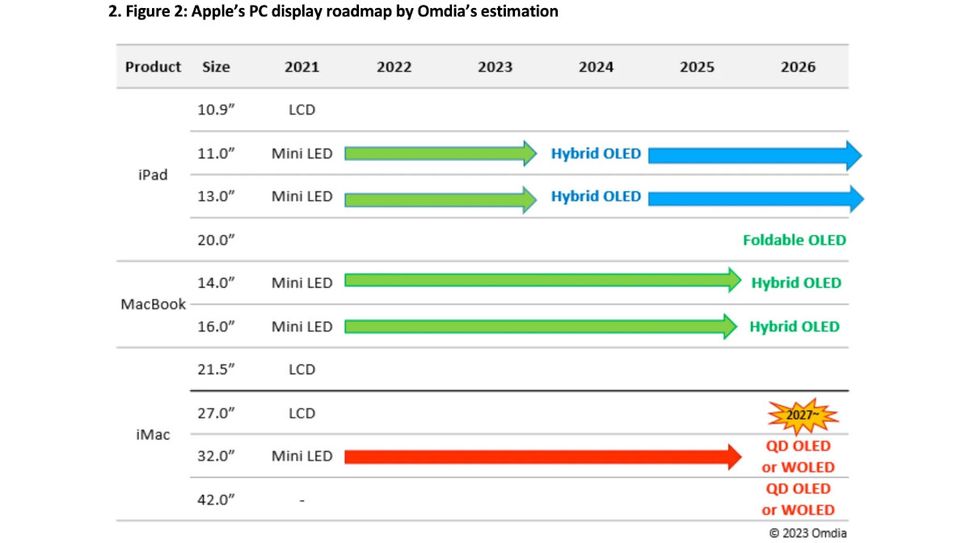 We've heard rumors about an OLED iPad Pro upgrade coing soon, with the latest update hinting at a 2024 release. However, it looks like that update is likely the beginning of a major shift for the company. Apple first started using OLED screens with the iPhone X in 2017, and it appears that the company is planning a complete switch to OLED by ten years after that point, in 2027.
Omdia says that it expects a rise in OLED shipments from 9.7 million in 2022, to 70 million in 2028, with Apple's switch fuelling the increase. Its insights say that the MacBook Pro will follow the iPad Pro in OLED adoption, with new "iMac monitors" coming after. 
The report says, "The main catalyst in Omdia's predictions is Apple's adoption of OLED displays. Apple will begin using OLEDs in its iPad Pro devices next year, and will start using OLEDs in laptops (MacBook Pro at first) in 2026. In 2027 the company will also start using QD-OLED and/or WOLED displays for its 32″ and 42″ iMac monitors. The company will almost completely phase our LCDs and miniLEDs at its mobile devices by 2026."
So if you've been waiting for OLED screens on the best MacBooks and other Apple products, you may have to wait only a bit longer.