Apple TV Plus' hot new mystery series beats out Succession and more in debut week
It's been a big week for Apple TV Plus with the new Jennifer Gardner and Nikolaj Coster-Waldau mystery The Last Thing He Told Me more than holding its own in the streaming charts.
With Apple TV Plus having already made its presence known in the charts thanks to the movie Tetris, The Last Thing He Told Me premiered on April 14 and immediately stormed to third place in the streaming chart across all TV shows and movies.
Not only did The Last Thing He Told Me perform well, but it also managed to out-perform some heavy hitters in the shape of Showtime's Yellowjackets and HBO's huge hit Succession.
A debut hit
This was all according to Reelgood's (opens in new tab) stats collected for the week running from April 13 through April 19 with Netflix show Beef taking the top spot. That was followed by Cocaine Bear from Peacock with The Last Thing He Told Me rounding out the top three.
Succession found itself all the way down in seventh spot, followed by the other Apple TV Plus entry in Tetris.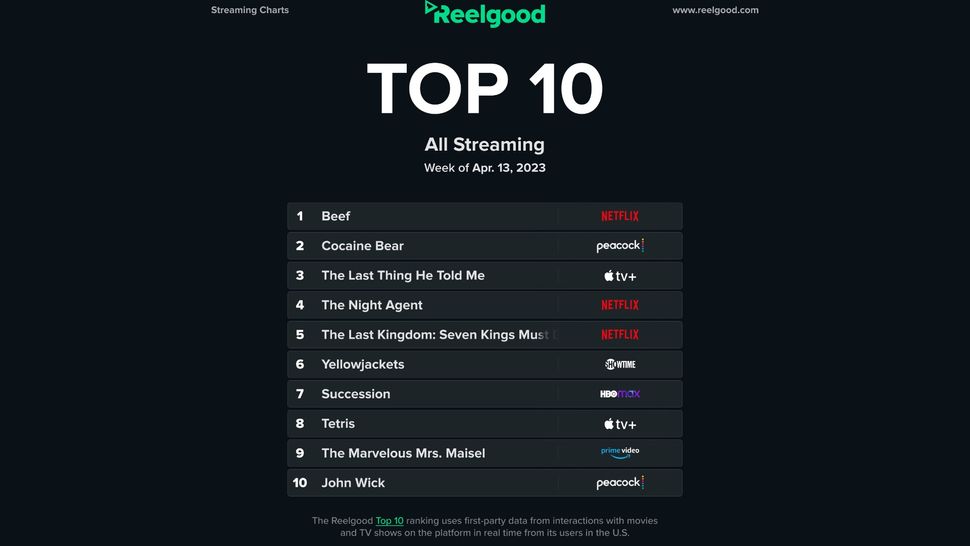 The Last Thing He Told Me tells the story of a woman who becomes close to her 16-year-old stepdaughter after her husband mysteriously disappears.
The show stars Garner and Nikolaj Coster-Waldau alongside Angourie Rice, Aisha Tyler, Augusto Aguilera, Geoff Stults and John Harlan Kim. It was produced by Reese Witherspoon's Hello Sunshine who bought the rights to the book from its author of the book on which it is based, Laura Dave.
You can watch the first three episodes of The Last Thing He Told Me on Apple TV Plus right now. The streamer is available on a host of devices including the Apple TV 4K. But there are plenty of Apple TV alternatives out there if you're looking for something a little less spendy.
At this point you can stream Apple TV Plus on just about anything including smart televisions, games consoles, and more.