Illinois home invasion suspect caught after police K9 tracks him down over a mile away, punches dog, cops say
A home invasion suspect was tracked down a mile by a police K-9 in Illinois after allegedly breaking into a woman's home and beating her. 
A 36-year-old woman was on Face Time with a friend around 8:30 p.m. in her home in Gurnee, a Chicago suburb, when Joshua Simmons, 34, appeared behind her in the video, the Lake County Sheriff's office said. 
The woman screamed and the call disconnected, authorities said. When deputies arrived, she had been "battered" by the intruder, investigators said. 
CHICAGO WOMAN CHARGED AFTER DRAGGING BOYFRIEND WITH CAR, FLIPPING VEHICLE IN CRASH: POLICE
"Fortunately, the victim was on a telephone call when this incident occurred, and her friend was able to call 911," Lake County Sheriff John D. Idleburg said in a statement. "If it were not for the quick thinking of the victim's friend, this situation could have ended much differently. I am proud of the work of our Patrol Division and Sheriff's K9 Team who worked quickly to locate and apprehend this violent offender."
Simmons, a former acquaintance of the woman, forced his way into the home and hit her in the face and neck. She declined medical treatment. Simmons' vehicle was found a block from the home. 
A police K-9 was used to track down Simmons. After about a mile, he was found in a residence but refused to surrender, authorities said. The K-9, named Dax, bit Simmons on his arm and Simmons struck the dog, police said.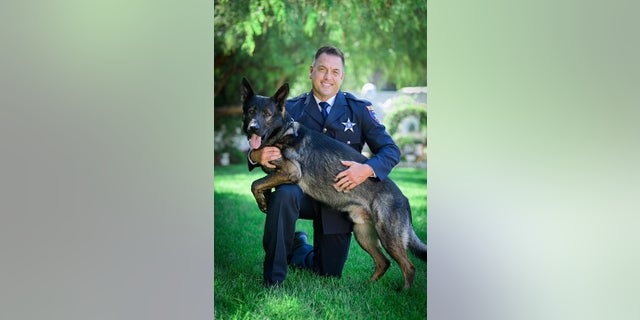 CLICK HERE TO GET THE FOX NEWS APP
"Simmons subsequently surrendered," the sheriff's office said. "K9 Dax was unfazed by Simmons' punch."
Simmons was taken to a hospital for treatment for a dog bite and released to deputies. He has been charged with felony home invasion, domestic battery, criminal trespass to a residence, striking a police K-9 and resisting arrest.