Mainstream pundits stunned that Trump, Biden remain so close in polls: 'Kind of shocking'
Members of the mainstream media are in disbelief that President Biden and former President Trump are so close in the polls despite Trump's mounting legal woes.
ABC News' George Stephanopoulos seemed stunned on Sunday by a 2024 election poll showing Trump and Biden tied at 46% in a hypothetical rematch, calling the findings "kind of shocking." 
During a segment on ABC's "This Week," Stephanopoulos brought up a Wall Street Journal poll released over the weekend showing support among Trump and Biden split directly down the middle at 46% support each if the 2024 election were held today.
ABC HOST SHOCKED BY POST-TRUMP INDICTMENT POLL SHOWING 'STATISTICAL TIE': 'WHAT DOES THAT SAY ABOUT BIDEN?'
"It is kind of shocking in a way, that despite all of the baggage that Donald Trump carries, he's tied with Joe Biden right now," Stephanopoulos said. "With every passing month, with every new indictment, Donald Trump seems to be consolidating his control over the Republican Party." 
Those surveyed in the Wall Street Journal poll were asked about the indictments against Trump, with more than 60% of Republican primary voters insisting that the multiple criminal charges were politically motivated and lacked merit. Another 78% said Trump's actions following the 2020 election were legitimate actions to ensure an accurate vote. Just 16% said that Trump illegally attempted to prevent Congress from certifying the 2020 presidential election results.
Despite the legal troubles embroiling Trump, the survey found that 59% of Republican primary voters support the former president in the race for the White House, an 11-point increase since the outlet conducted a similar survey in April.
LIBERAL PARENT ADVOCATE ACCUSES BIDEN ADMIN OF COWARDICE ON SCHOOL WARS: 'THEY'RE AFRAID' TO FIGHT
Also Sunday, CNN's Jim Acosta – who famously feuded with Trump on a regular basis when he was the network's White House correspondent – reminded viewers that despite Trump's "four indictments…he is still tied with Joe Biden in the poll."
Acosta was joined by Larry Sabato, the Director of the Center for Politics at the University of Virginia, who also expressed concern for the sitting president. 
"I guess we would be remiss if we were to pass over this Wall Street Journal poll, that found even rates between Trump and Joe Biden, 46% for each. The man on the left side of the screen is the President of the United States and the man on the right is former President of the United States with four indictments, and he is still tied with Joe Biden in the poll. Larry, what do you make of that?" Acosta asked.
"Biden has work to do," Sabato responded. "This is important for Democrats to get, this is not going to be a cakewalk. A lot of things can happen, but it's not going to be a cakewalk."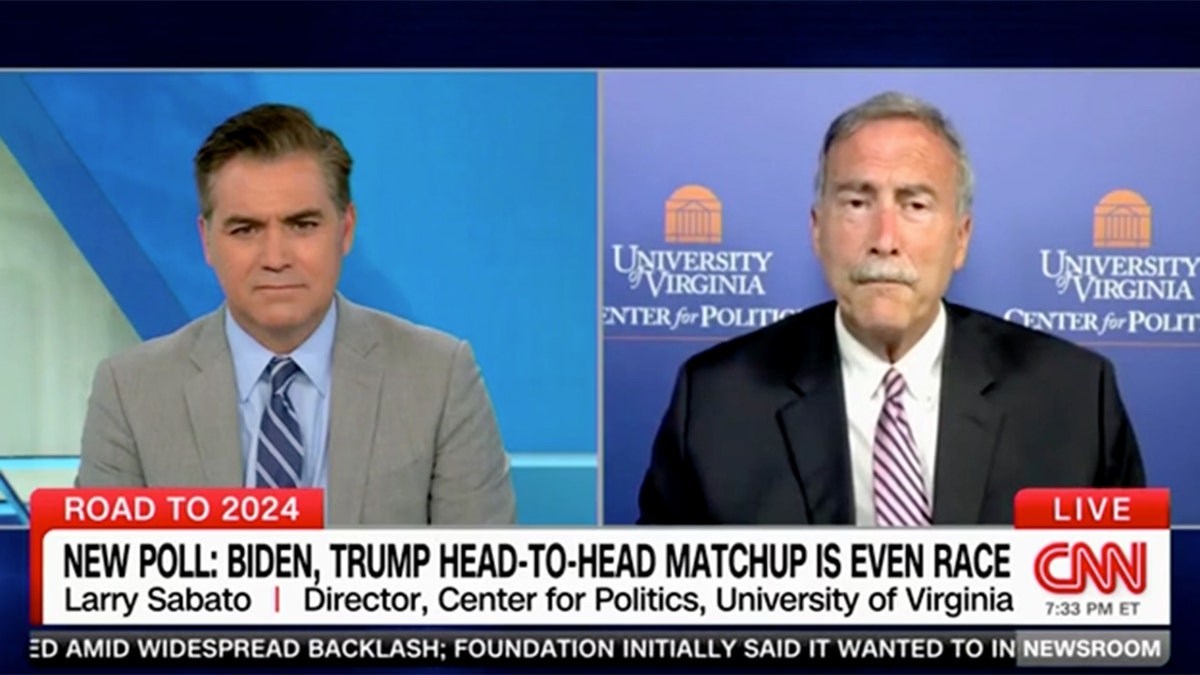 New York Times White House correspondent Peter Baker also referenced the poll in an MSNBC interview Saturday, remarking that, "After the mugshot and four criminal indictments, you would think that President Biden would have [a] significant advantage, but apparently not."
Earlier this month, The New York Times published a piece headlined, "Can the Race Really Be That Close? Yes, Biden and Trump Are Tied," which detailed a New York Times/Siena College poll suggesting Biden only has a "slight" edge among voters who don't like either candidate.
"The possibility that criminal indictments haven't crippled Mr. Trump's general election chances might come as a surprise or even a shock, but the result is worth taking seriously. It does not seem to be a fluke," Times chief political analyst Nate Cohn wrote. 
BIDEN, TRUMP TIED IN HYPOTHETICAL 2024 REMATCH, NYT/SIENNA COLLEGE POLL FINDS
In June, ABC's Jonathan Karl also expressed surprise at a poll conducted after the federal indictment of Trump that put him just slightly behind Biden. His comments came days after Trump pleaded not guilty to 37 felony counts that stem from Special Counsel Jack Smith's investigation into the former president's alleged improper retention of classified records at his Mar-a-Lago estate in Florida.
"A poll from Quinnipiac on [a] possible Biden/Trump matchup puts Biden at 48%, Trump at 44%. This is a poll, again, taken largely after the indictment. I mean, that's going to make you – that's within the margin of error. That's a statistical tie," Karl said on "This Week."
He asked the panelists, "What does that say about Biden if he's barely beating" Trump?
CLICK HERE TO GET THE FOX NEWS APP
Fox News' Yael Halon and David Rutz contributed to this report. 
For more Culture, Media, Education, Opinion, and channel coverage, visit foxnews.com/media