Missouri zoo welcomes newborn Bornean orangutan just before Mother's Day
The Kansas City Zoo in Missouri announced on Sunday that one of its Bornean orangutans gave birth to a boy last Monday, nearly a week before Mother's Day.
"We are excited to announce that a critically endangered male Bornean orangutan was born on Monday, May 8, to mother Josie," zoo officials said in a Facebook post. "Both mom and son appear healthy and are doing well."
In the post, zoo officials said the newborn baby and his mother are forming a critical bond behind the scenes, one in which orangutan infants develop a long-lasting relationship with their mother.
It is over the next several years that Josie will show her new baby skills like how to build a nest, forage for food and interact with others.
DALLAS ZOO WELCOMES BABY WARTHOG: 'HER NAME MEANS WATERMELON'
The World Wildlife Fund (WWF) said on its site that Bornean orangutans are critically endangered, and their populations have dropped by over 50% over the last 60 years.
Currently, the population of Bornean orangutans is about 104,700.
RARE ELEPHANT TWINS BORN IN NEW YORK SURPRISE THE ZOO STAFF: 'SHEER IMPROBABILITY'
Although the species is native to the island of Borneo, they can be found in Sumatra, the WWF said. They can grow between to about 4.6 feet tall and weigh as much as 220 pounds.
The Kansas City Zoo said it developed the Corridor Restoration for Animals Threatened and Endangered (CREATE) Project in partnership with the Animal Projects and Environmental Education (APE) Malaysia, which is aimed at long-term habitat restoration in the Kinabatangan rainforest in Borneo.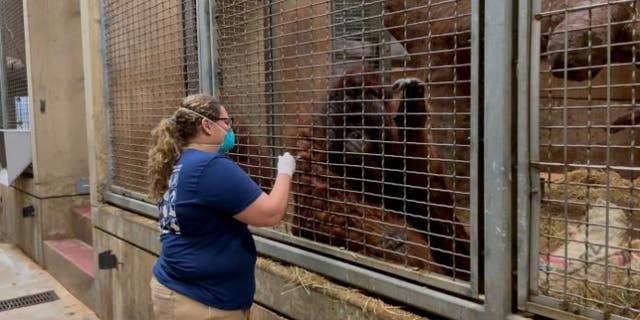 The newborn orangutan does not have a name, but according to officials, he will most likely be named in the coming weeks.
CLICK HERE TO GET THE FOX NEWS APP
Zoo officials said all updates and developments involving Josie and her newborn, and when they will make their public debut, will be posted to its social media channels.