No. 8 seed Miami advances to NBA Finals, avoids being on wrong side of history against Celtics
The glass slipper went missing for a bit, but the Cinderella run continues for the Miami Heat.
The No. 8 seed avoided being on the wrong side of history Monday night with their 103-84 win over the Boston Celtics in Game 7 of the Eastern Conference Finals.
Things started badly for Boston from the jump, as Jayson Tatum rolled his ankle on the very first possession of the game. It didn't limit him minutes-wise, but Miami took advantage throughout the entire night.
Miami led by as many as 17 in the second quarter, but Boston managed to cut the deficit to seven in the third. After leading 76-66 through three, Miami started the fourth quarter on a 20-7 run to lead by 23 – the largest of the night.
CLICK HERE FOR MORE SPORTS COVERAGE ON FOXNEWS.COM
Miami is now 88-0 when leading a playoff game by at least 10 points in the fourth quarter.
Jimmy Butler dropped 28 points, which hardly surprises anybody. The spark plug for the Heat was Caleb Martin, who dropped 26 points on 11-of-16 shooting going 4-for-6 from three.
No Celtic scored 20 points during the match and Tatum and Jaylen Brown combined for a stunning 13-for-36 from the floor.
The second-seeded Celtics became the fourth team in NBA history to force a Game 7 after trailing three games to none, and the first since the 2003 Portland Trail Blazers. With all the momentum on Boston's side, hardly anyone expected the eighth-seeded Heat to get a victory on the road. But alas, it remains that no NBA team has completed the comeback from down 3-0.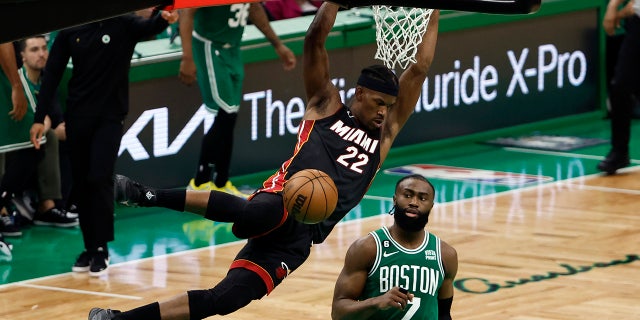 76ERS REPLACE DOC RIVERS WITH CHAMPIONSHIP-WINNING COACH
Boston was the first team to host Game 7 after regaining momentum and tying the series following three straight losses, but the Heat also made history of their own by becoming the first No. 8 seed to make the finals in a full NBA season.
The 1998-99 New York Knicks were the No. 8 seed and made it to that season's finals, but that season was just 50 games long thanks to the lockout that year. The lowest seed to ever win the NBA Finals is the sixth-seeded Houston Rockets of 1994-95. They also are the first play-in team to make the finals.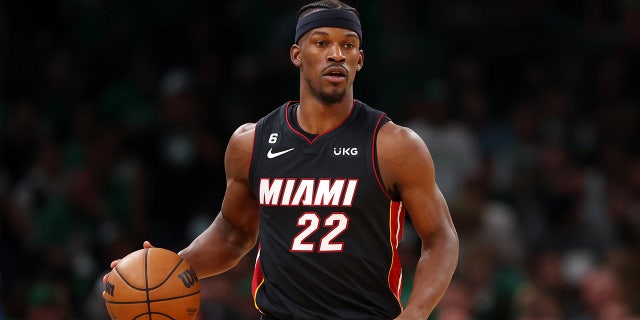 CLICK HERE TO GET THE FOX NEWS APP
The Heat will face the West's top-seeded Denver Nuggets, who are in their first NBA Finals in franchise history.
Tip off is set for Thursday at 8:30 p.m. in Denver.