Oregon dad dies, 3 kids rescued after fall over 200-foot cliff along hiking trail: sheriff
An Oregon dad died and three children were rescued over the weekend, after they fell over a 200-foot cliff while hiking down a trail to a secluded beach along the coast, authorities said Monday.
Rescue teams responded after Jordan Acord, 28, reported that her husband Ryan Acord, 36, her two children and a juvenile family friend had fallen over a cliff on the hike down to Secret Beach on the southern Oregon coast, the Curry County Sheriff's Office said.
Multiple agencies, including the U.S. Coast Guard, rushed to Secret Beach near Brookings. 
As first responders arrived, it became clear that the family was not at Secret Beach.
BODY OF COLORADO MAN RECOVERED AT CANYONLANDS NATIONAL PARK IN UTAH
"They followed Google Maps, and it pointed them in the wrong spot, and they thought they were in the right spot, so they parked and went down the wrong trail," said Sheriff John Ward told KOBI-TV.
The family had unknowingly gone to a small beach a little further north from Secret Beach near the Spruce Island View Point, where officials located their vehicle parked.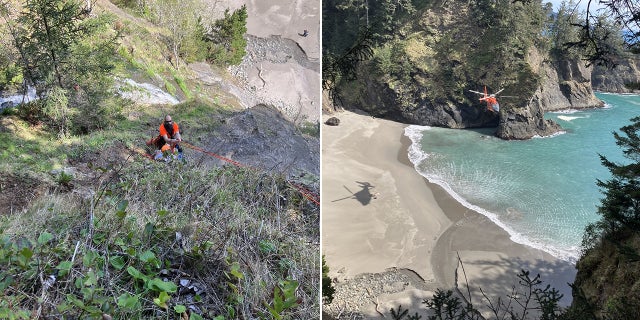 Rescuers began to rappel to the rocky beach, where officials said they found the couple's 8-year-old son Nolan and his father about 200 feet below the end of the trail.
Ward said that Ryan Acord saw the kids slip and fall on a treacherous portion of the trail near a waterfall and raced to save them from going over the cliff. However, Ward said, the dad slipped and fell to the beach below.
Ryan Acord had died in the fall while Nolan suffered serious injuries, the sheriff's office said.
HAWAII HIKER DIES AFTER TUMBLING 40 FEET ON LANIKAI PILLBOX TRAIL: REPORTS
Nolan was airlifted to Curry General Hospital in Gold Beach before being transported to Oregon Health and Science University in Portland.
Rescuers also rappelled to reach the other two juveniles, the couple's 12-year-old son Kade and 8-year-old family friend Liam.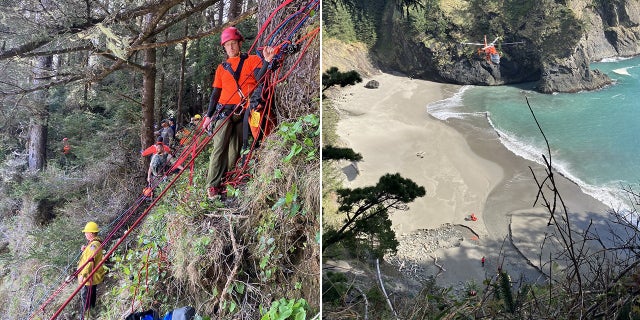 Both children had fallen down the steep embankment but stopped before the edge of the cliff, according to officials.
Kade was found holding onto a small tree that had prevented him from falling hundreds of feet onto the rocky beach. Liam was also found in the upper portion of the embankment uninjured. 
Jordan Acord updated the sheriff's office that Nolan is doing well and is expected to make a full recovery.
Ward told the station that the search and rescue teams have responded to the area multiple times over the past several years due to the treacherous conditions of its trails.
"I can't tell you how many times search and rescue has responded down there in the last several years because people find themselves in situations they cannot get out of," the sheriff said.