RFK Jr. recounts border visit, offers Trump credit, says Dems reversal of policies reached 'pettiness'
Democratic presidential candidate Robert F. Kennedy, Jr. told Fox News on Thursday he believes President Trump deserves some credit for his immigration policy platform, while underlining he still soundly disagrees with the Republican on other aspects of it.
Kennedy also said the pattern of President Biden and top Democrats reversing one Trump policy after another may have reached the point of "pettiness" versus empirical benefit.
"I'm not trying to attack [Biden]," Kennedy said of how his candidacy has been roundly jeered by Democratic Party leadership. "I have a different view on what we should be doing and what our government policies should be and the war and censorship and our relationship, our commitment to the middle class in this country."
He said, however, his tact is gaining traction given polling showing 1-in-5 Democrats supports him over Biden at this juncture.
RFK JR SAYS DEMS HAVE BECOME 'PARTY OF WAR'
Kennedy went in-depth about his 3-day visit to the Mexican border, saying that he was surprised in one respect that many of the illegal immigrants egressing into the United States are not the typical Central American refugee, but that many he encountered came from India, Bangladesh, Kazakhstan and elsewhere.
"You look at the [Biden] administration's explanation of the problem. And I couldn't make heads or tails. It was really interesting when I went down there, because it took me the full three days that I spent on the border to really appreciate what was happening," he said.
Kennedy described going to the border around 1 AM local time and seeing "huge" groups come across, including about 60 Senegalese nationals, who he wasn't allowed to speak with after the Border Patrol took them into custody.
"They all know exactly what's happening because they have studied this on social media, their show on what will happen to them when they come across."
RFK JR SAYS HE OPPOSES BIOLOGICAL MALES COMPETING IN WOMEN'S SPORTS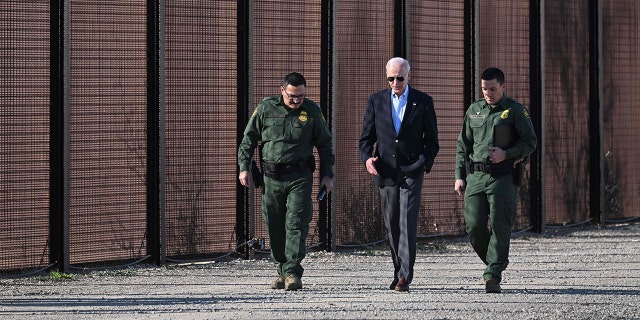 Migrants like those from the Atlantic coast of Africa fly to Mexico City to be bused to the border, assisted by cartels, he said.
He said those groups of migrants arrive in the city of Mexicali, Baja – which sits across from Calexico, Calif. Many, he said, get positioned slightly east where they can cross into Yuma, Ariz.
Kennedy also described speaking with a Peruvian migrant family robbed by "bandits" he said were likely cartel-connected, as well as viewing a "rape tree" near the border where the cartels "extract its final payments."
He said that once the migrants are in the United States, they are sent on taxpayer-funded flights to the city of their choice, with the only proviso being they must have a named "sponsor" in the arrival city.
As for whether he agrees with Trump's hardline stance toward securing the border, building a wall and engaging in exponentially more deportations than the Biden administration, Kennedy said his view is mixed.
"I actually think some of the things that Trump did, as much as I opposed them at that time – and I still oppose all the way [as] I don't think we need a 2,200-mile wall, and the Border Patrol people that I talk to don't believe that either."
"But you do need surveillance on most of the border – we need a physical barrier in the places where it is [needed]."
"I am [with Trump more than Biden] on this particular issue," he said, adding the Biden administration has appeared to essentially govern by spite at times, seeking to unravel Trump policies at any cost.
"A lot of the ground sensors had been torn up, the cameras had been turned off … We could actually look at the piles of the towers that had been dismantled of the surveillance system. And I understand there was such a huge reaction in the Democratic Party against anything that Donald Trump said. But I think it went really overboard here," he said.
"And it got to the point of pettiness, where policies were being dictated not because they made sense, but because they were antithetical to what Donald Trump had said — And that is not a good way to make policy. And we're living kind of with that blowback."
Kennedy agreed much of his campaign has ruffled his fellow Democrats, not just on the border issue but in regard to his critical view of the Ukraine invasion, which he said was indeed commenced by Russia but which may have become a "proxy war" where the U.S. is using Ukraine to unseat Vladimir Putin.