The North American Aerospace Defense Command released a statement Saturday saying it had intercepted six Russian aircraft operating off the coast of Alaska. 
In a press release about Thursday's incident, NORAD said it "detected, tracked, positively identified and intercepted six Russian aircraft operating in and near the Alaska Air Defense Identification Zone (ADIZ).
UKRAINE MAKES GAINS IN BAKHMUT AMID TALKS OF SPRING OFFENSIVE; WAGNER TANTRUM CONTINUES
"Russian aircraft remained in international airspace and did not enter American or Canadian sovereign airspace,"  the statement added. "These flights occurred as several planned large-scale U.S. military training exercises are ongoing in Alaska."
The Russian aircraft, according to the press release, were Tu-95 bombers and IL-78 tanker and Su-35 fighter aircraft. 
UKRAINE INVASION PROVING 'VERY, VERY DIFFICULT,' KREMLIN SPOX SAYS IN RARE ADMISSION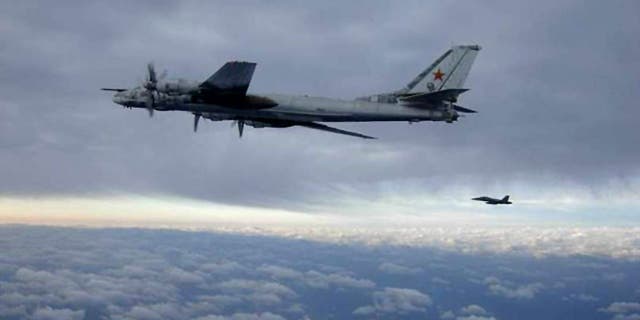 The Russian aircraft were intercepted by F-16s, F-22s, KC-135 Stratotankers and E-3 AWACS.
The press release explained that Russian activity like this "occurs regularly" and "is not seen as a threat."
CLICK HERE TO GET THE FOX NEWS APP
NORAD estimates an average of six to seven Russian aircraft incursions occur each year in the ADIZ.