Virginia parent of assault victim speaks out after Youngkin pardon: 'They used me to silence moms and dads'
Scott Smith, the Northern Virginia parent whose daughter was sexually assaulted in a school bathroom by a transgender biological male student, spoke out to Fox News on Monday after Gov. Glenn Youngkin pardoned his disorderly conduct conviction.
Smith's daughter was a student at Stone Bridge High School in Ashburn, west of Washington DC, when she was assaulted by the student – which caused an uproar in the district.
Smith attended a school board meeting soon afetward in June 2021, and was arrested following an altercation there. He told "America Reports" he was not verbally sparring with the unsupportive school board members, but a "radical parent" who called him a liar and threatened to embarrass him on social media.
Smith said that the ensuing actions by the Biden Justice Department – which reportedly included FBI threat tags for parents at school board meetings – were excused by finger pointing at his case.
FATHER OF VIRGINIA STUDENT ALLEGEDLY ASSAULTED BY BIOLOGICAL MALE IN RESTROOM SPEAKS OUT
"I never spoke to the school board. That whole story is really kind of askew," he recalled Monday on "America Reports." "I was sitting in my little area and a radical protestor came, and I heard this shouting behind me and I turned around, and it was my wife and her, I didn't even know my wife was there. She came in behind me."
"So I stepped in, tried to explain to this lady what was going on. She looked at me dead in the face and said, 'That's not true, that's not what happened. You are lying.'"
Smith said the police came over and asked the two to be kind to each other, and when they walked away, he turned to engage the woman verbally again, and that that was when she threatened to "ruin" him via social media.
LOUDOUN COUNTY, VA, PARENTS DEMAND SUPERINTENDENT RESIGN OVER ALLEGED SEXUAL ASSAULTS IN SCHOOLS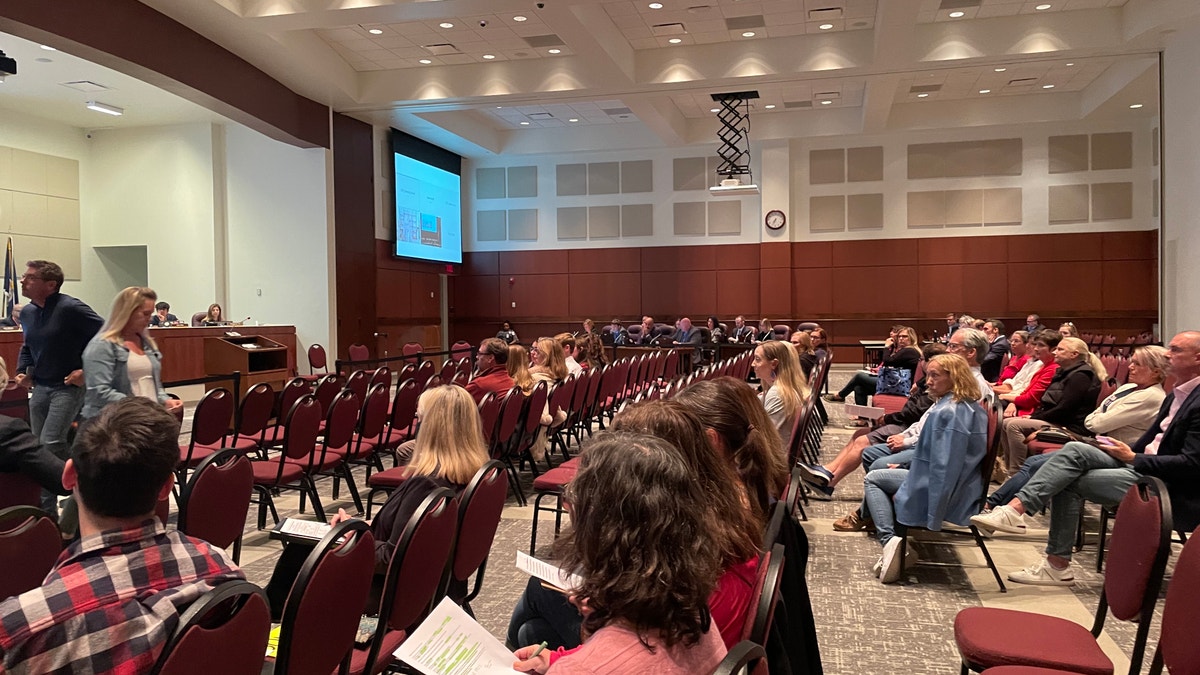 "I called her an expletive, the next thing I know there are hands all over me, grabbing me from behind," Smith said.
"America Reports" anchor John Roberts went on to cite a Wall Street Journal report claiming the press used Scott's altercation as proof of some type of greater right-wing campaign of violence, or as the paper put it "an attempt to fit Mr. Smith into the Democratic Party's portrayal of conservative critics of government as motivated by hatred."
"It's all true," Smith replied. "It's what they did."
"They used me to silence moms and dads and grandmothers and grandpas and everybody else that we're starting this movement to protect our children and stand up for our rights, to protect our children and say what we think is right for them."
"And there's clear evidence that it somewhat worked," he went on, saying a Justice Department memo on the school board attendees was "bone chilling."
Smith called Loudoun County Democratic Commonwealth's Attorney Buta Biberaj – the lead county prosecutor who was ultimately removed from the case – "one of the most evil people I've ever met," after being presented with Biberaj's rebuttal to Youngkin's pardon.
Biberaj released a statement calling the Republican governor's pardon a "political stunt" and "unprecedented, inappropriate intervention into an active legal case."
She accused Youngkin of making himself "judge and jury" over herself and politically-opposite Republican county officials who were involved in the case.
"Unfortunately, I had to deal with her face to face with the prosecution of the sexual predator of my daughter," Smith said.
"We need to vote her out."
He said that left wing prosecutors in big cities get most of the press attention – like Alvin Bragg in Manhattan, Fani Willis in Atlanta and Lawrence Krasner in Philadelphia in recent years – but that the smaller or suburban counties have similarly left-wing district attorneys who aren't as closely followed.
For more Culture, Media, Education, Opinion, and channel coverage, visit foxnews.com/media.